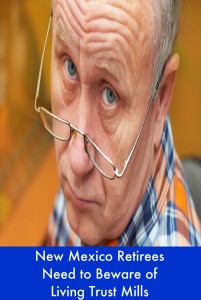 Although living trusts are frequently used estate planning devices, elderly adults that are engaged in estate planning need to be aware that not all businesses that claim to set up living trusts are created equal. There is a growing number of unscrupulous perpetrators of fraud that are deceiving seniors into draining retirement nest eggs built over a lifetime on financial investments that offer little value and threaten the seniors' financial security under the guise of "estate planning." These businesses referred to as a "living trust mill" (alternatively "trust mill") involve businesses that persuade many seniors to invest in annuities that offer nominal benefits for those who purchase the financial product.
The scope of the problem is illustrated by a lawsuit pursued by the Attorney General and Insurance Commissioner in another state several years ago that sought over $100 million. The lawsuit alleged that the business enticed elderly individuals to purchase annuities with their retirement savings so that the sales agents could generate significant fees and commission that diminished the estates of the seniors' retirement savings.
These living trust mill schemes involve persuading seniors to liquidate their investments in mutual funds and certificate of deposit accounts so that they can invest in annuities and generate significant costs that accrue to the business and sales agent. The scam involves misleading seniors into the notion that their current investments are risky or that they offer interest rates that are too low. Living trust mills encourage seniors to reallocate their money into high risk annuity investments that threaten the seniors' financial security.
In addition to the fees, commission costs, and higher risk, there are other serious problems for seniors duped by such schemes. The sales agent often fails to advise individuals about potential adverse tax consequences, early withdrawal penalties and other similar negative effects of this shift in retirement resources. Those who shift their retirement account from CDs to annuities are often misled into believing that their investment is completely safe. However, annuities provided by insurance companies are not insured by the FDIC so they offer limited security as investments.
The above information is designed solely to illustrate general principles of law, and does not constitute a specific legal opinion on individual cases. We suggest that you contact experienced legal counsel for a specific opinion tailored to your individual circumstances.
The bottom line is that investing in annuities through living trust mills is not the equivalent of genuine estate planning. If you have estate planning questions, a licensed experienced New Mexico Estate Planning Attorney is governed by ethical rules that prohibit conflicts of interest generated by self-dealing transactions of this type. Our New Mexico Estate Planning Lawyers at Jay Goodman & Associates, PC offer a free consultation in our centrally located offices in Santa Fe and Albuquerque so that we can discuss your specific situation. Call us today to schedule your free consultation at (505) 989-8117 to learn about your rights and options.