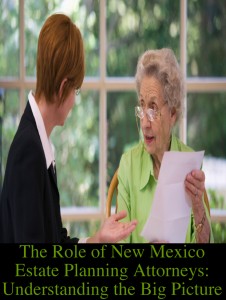 Many people who develop estate plans without consulting with Estate Planning Lawyers in Albuquerque and Santa Fe, NM find that the initial cost savings involved in DIY estate plans can be easily dwarfed by the long-term costs. Although the appeal of flashy advertisements promising a DIY will for a nominal fee or a living trust for the cost of a self-help legal guide might seem enticing, these estate planning solutions fail to address the most important role of an estate planning lawyer. Admittedly, skilled drafting of estate planning documents is an important service provided by estate planning law firms, but this may not be the most important role of estate planning lawyers.
When you seek legal advice and counsel from a law firm that devotes a substantial portion of its practice to estate planning issues, the most significant benefit may be legal and practical advice on developing an overall plan. The overall design of an estate planning can impact many issues, including asset protection, tax liability, business planning, nursing home financing, legacy succession, special needs planning and more. This suggests the broader role of an estate planning attorney beyond a scrivener of documents. The attorney typically develops a comprehensive estate plan that addresses your priorities among these issues while warning you of potential problems and pitfalls involved in shaping an effective estate plan. Put another way, estate planning documents may have little or no value if they are the wrong documents which comprise a poorly thought out overall plan to approaching these issues.
Estate planning documents like a financial power of attorney, living trusts agreements, simple wills, advanced health care directives and other estate planning documents serve important functions. However, the uniqueness of your circumstances, health, age, family structure, financial situation and other factors play a fundamental role in evaluating the specific types and form of documents that will best suit your objectives while minimizing negative unintended consequences.
Although many people know they will benefit from a living trust, for example, they might not be aware that there are probably hundreds of potential choices for provisions to include in a living trust. Although the choice of which provisions or type of living trust to draft might appear obvious, traps may lurk for those who do not have the benefit of legal counsel. While a living trust that permits maximum flexibility by allowing the settlor to amend or terminate the trust might seem appealing, this choice can result in forfeiture of creditor protections and minimum protection from tax liability.
The above information is designed solely to illustrate general principles of law, and does not constitute a specific legal opinion on individual cases. We suggest that you contact experienced legal counsel for a specific opinion tailored to your individual circumstances.
If you have estate planning concerns, our New Mexico Attorneys at Jay Goodman & Associates, PC offer a free consultation in our centrally located offices in Santa Fe and Albuquerque so that we can discuss your specific situation. Call us today to schedule your free consultation at (505) 989-8117 to learn about your rights and options.