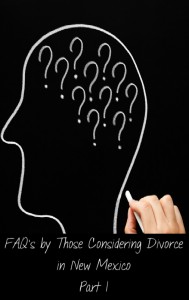 If you have been served with divorce papers from your spouse or you are considering pursuing a marital dissolution in New Mexico, chances are that you have a multitude of questions about your rights and the divorce process. Our experienced Albuquerque Marital Dissolution Attorneys at the Jay Goodman & Associates offer a free consultation so that we can answer your preliminary questions and advise you regarding your legal rights and remedies. We have provided a quick overview of some of the key facts that are often raised by prospective clients during these initial consultations.
Can I file for divorce in New Mexico if I have recently moved here to be close to my family after leaving my spouse who resides in another state?
Although you can file for divorce in New Mexico even if both you and your spouse were married in another state and resided there during the entire period of your marriage, there is a six month residency requirement in New Mexico
Is there any reason I should file in New Mexico if I now live in another state?
Because New Mexico is a community property state, you may want to file here even if you have moved to another state while your spouse remained within the state. There are only a handful of states that follow community property law, but it can result in a different distribution of property than in "equitable distribution" states. While community property law basically results in the value of most property acquired during the marriage being divided 50-50 with limited exceptions, an equitable distribution of property only requires that the division of property be "fair" rather than equal. Given this distinction, you should consult with an experienced New Mexico divorce attorney about which type of jurisdiction provides a better option given your circumstances.
What legal basis must I have to seek a divorce under New Mexico law?
New Mexico provides an option to either pursue a no-fault divorce or to seek a marital dissolution based on an allegation of fault. While a no-fault divorce can be more amicable, sometimes a finding of fault may impact issues like alimony, property division or child custody.
When does the obligation to pay child support end?
Child support must be paid until the child reaches 18 (or up to 19) and has graduated from high school whichever occurs first.
The above information is designed solely to illustrate general principles of law, and does not constitute a specific legal opinion on individual cases. We suggest that you contact experienced legal counsel for a specific opinion tailored to your individual circumstances.
If you have questions about spousal maintenance (alimony), we invite you to speak to an experienced divorce lawyer at our New Mexico Divorce Law Firm. The Jay Goodman & Associates offers a free consultation in our centrally located offices in Santa Fe and Albuquerque so that we can discuss your alternatives. Call us today to schedule your free consultation at (505) 989-8117 to learn about your rights and options.