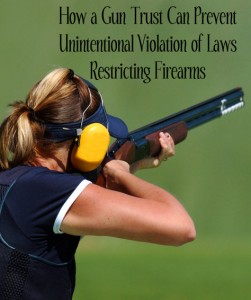 While there is a wide array of assets that may be made part of a revocable trust, sometimes there are special types of assets like firearms that requires special language to ensure that you do not inadvertently place a family member or loved one who you name as a beneficiary of federal law. The legal rules regarding the transfer and ownership of a firearm under the National Firearm Act (NFA) make it important to use a NFA trust (otherwise known as a "Gun Trust") when you die if you wish to avoid creating problems in terms of succession of your firearms.
Because most revocable trusts deal with financial assets, real property and routine types of personal property but not the type of property that is subject to extensive regulations in terms of the ownership, possession or transfer like a gun. A gun trust provides a mechanism for passing down a collectors of firearms to pass them to family members without violating laws that regulate firearms.
There is an increasing interest in gun trusts given the current political debate over stricter firearm restrictions because a properly created firearm trust may provide some protection to owners of firearms and their heirs from future gun control laws. While it appears that the fervor by President Obama and Democrats to enact more stringent firearm restrictions looks headed for defeat, existing laws already potentially place parties in legal jeopardy when a properly constructed NFA trust is not created.
By way of example, those with a felony conviction or those approved to use medical marijuana are prohibited from gun ownership under federal law. When firearms are passed to beneficiaries who are not legally authorized to own a gun, the beneficiary is immediately placed in a legally precarious position. However, a properly created firearm trust can prevent these legal complications because the trust owns the firearm not the beneficiary of the trust.
Gun Trusts also provide a legal means for firearms collectors to purchase weapons, such as short barreled shotguns and machine guns without the necessity of obtaining the approval of local law enforcement authorities like individual buyers. According to federal authorities, there has been a substantial growth in the number of gun trusts for this purpose in recent years. The number of transfers of these types of restricted firearms to trusts and similar entities rose from 26,376 to 39,354 during a recent one year period.
If you are considering a gun trust, it is important to recognize that the documents must be drafted so that they comply with both the state requirements for all revocable trust as well as contain special provisions that related to laws regulating firearms. The transfer of ownership must from the creator of the trust to the trust must also be successfully executed for the firearm trust to be effective.
The above information is designed solely to illustrate general principles of law, and does not constitute a specific legal opinion on individual cases. We suggest that you contact experienced legal counsel for a specific opinion tailored to your individual circumstances.
Gun collectors and firearms enthusiasts should take special steps to protect their legacy and to prevent legal complications for their family members when leaving firearms to their loved ones. If you have estate planning questions or concerns, the experienced New Mexico Estate Planning Lawyers at Jay Goodman & Associates, PC offers a free consultation in our centrally located offices in Santa Fe and Albuquerque so that we can discuss your options. Call us today to schedule your free consultation at (505) 989-8117 to learn about your rights and options.