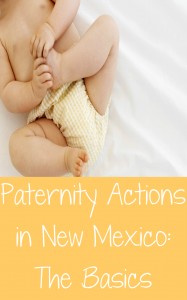 When a child is born and the parents are not married, the establishment of paternity is essential because it is the foundation for child support as well as parental rights and responsibilities.  If the parents are married when the child is born, the husband will be presumed to be the father under New Mexico law.  In the event the child is born out of wedlock, the father may file a legal action to establish paternity so that he can obtain joint custody or visitation rights while a mother may file to obtain child support from the father.  A paternity action is essentially a legal action that formally establishes parental rights and responsibilities.
When a biological father files a complaint to establish paternity so that he can obtain visitation and custody rights, the court also will impose child support orders as part of the paternity action.  While many times our experienced New Mexico Paternity Attorney can assist our client in negotiating a parenting plan that is in the best interest of the minor child, sometimes the other parent may not cooperate in terms of reaching an agreement.  When a parenting plan cannot be agreed to by the parties, the court may appoint a child custody evaluator to recommend an appropriate parenting plan.  While legal custody will be shared by both parents in most cases, the custody evaluator may do some or all of the following when trying to develop a parenting plan:
Interview both parents

Talk to the children

Review any evidence of parental fitness issues

Review school records and health care documents

Analyze the work schedule and availability of each parent

Gather evidence about the nature of the child's relationship with each parent
A New Mexico family law judge will typically give significant wait to the recommendation of the child custody evaluator so it is important to have an experienced New Mexico Paternity Attorney who can guide you through the evaluation process.  The information you relay to the evaluator can have a significant and sometimes unanticipated effect on the evaluator's report so you it is usually not advisable to proceed through the child custody evaluation process without an experienced paternity lawyer.
While a dad cannot avoid a child support order when filing for custody and visitation in a paternity action, a mom can anticipate that the court will address custody and visitation when she files to establish child support.  Child support will be based on the New Mexico child support guidelines.  This complex algebraic formula will be most significantly expected by the income of each parent and the amount of parenting time exercised by each parent.
The above information is provided to illustrate general principles of law and should not be interpreted as a specific legal opinion on an individual case. You should contact experienced legal counsel to get specific legal advice that is based upon your specific circumstances.
If you have questions about establishing a paternal relationship to obtain custody and visitation or child support, our New Mexico Paternity Law Firm of Jay Goodman & Associates offers a free consultation in our centrally located offices in Santa Fe and Albuquerque so that we can discuss your options.  Call us today to schedule your free consultation at (505) 989-8117 to learn about your rights and options.