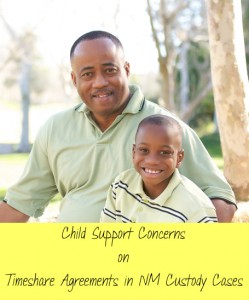 When parents are involved in a child custody dispute, child support will often be a key issue in the marital dissolution or paternity action. One unfortunate aspect of child custody cases involves the complex interplay between the determination of child support and parental timeshare arrangements. Because child support is calculated based to a significant degree on the parenting time exercised by each parent, this variable in the calculation of child support frequently means that the "tail wags the dog." In other words, concerns about child support may shift parents focus from the best possible arrangement for their children to the pragmatic financial consequences of child custody orders.
Our New Mexico Child Support Attorneys at Jay Goodman & Associates understand the financial pressures that accompany the breakup of a relationship between parents. The same income that used to fund one household now must be sufficient to cover separate households. Each party also has access to fewer assets to compensate for any shortfall between one's income and necessary expenses. These difficult financial challenges make the perverse financial incentives created by the method for calculation of child support a potentially destructive influence on amicable child custody agreements.
There are two main factors that determine the calculation of child support: (1) percentage of physical custody (i.e. overnights) and (2) respective income of each party after a few payroll deductions for taxes, SSI and mandatory retirement contributions. While there are other factors that have some impact like necessary job expenses (i.e. work uniforms), these typically have a nominal impact on a party's child support obligation.
The percentage of time that a parent spends with the children has a substantial impact on the standard of living of the parents. This reality often leads to legitimate fears about financial hardships that can motivate a parent to fight for more custodial time even if the parent does not necessarily think that such an arrangement would be the best possible timeshare schedule for one's kids. A father might fight to have his children spend the night even though the father will not arrive home until 7 p.m. after commuting from work. Mom might argue for custodial time while she needs to rely on a babysitter because she is in school even though dad is available to spend time with the kids.
When child support concerns are removed from the equation, most parents are able to reach amicable arrangements because they love their children and frequently agree on the best timeshare for their children. While a judge is obligated to order child support according to the New Mexico child support guideline formula without regard to other financial issues, our experienced New Mexico Child Support Attorneys often negotiate creative solutions to the financial concerns of the parties so that custody arrangements are dictated by the parents' opinion of the best interest of their children rather than economic realities.
The above information is provided to illustrate general principles of law and should not be interpreted as a specific legal opinion on an individual case. You should contact experienced legal counsel to get specific legal advice that is based upon your specific circumstances.
At our New Mexico family law firm, we understand the genuine dilemma many parents experience when considering parental timeshare arrangements while trying to determine if the corresponding child support order will allow the parent to make the rent or mortgage payment. We are committed to finding innovative solutions to our clients' family law problems. The New Mexico divorce law firm of Jay Goodman & Associates offers a free consultation in our centrally located offices in Santa Fe and Albuquerque so that we can discuss your options. Call us today to schedule your free consultation at (505) 989-8117 to learn about your rights and options.