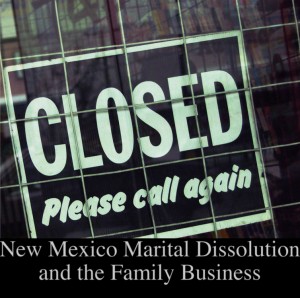 Any New Mexico marital dissolution involving significant assets or involving high net worth individuals typically presents complex asset division issues. One of the most difficult property division issues in a New Mexico dissolution of marriage involves the division of interests in a family business. The conflict and animosity that often accompanies the divorce process can interfere with the effective functioning of the business enterprise bringing its operation to a temporary halt, reducing its income stream or even causing long-term damage to the business. If you and/or your spouse own a family business, the process of divorce will involve a number of complications including:
• Reaching a proper valuation of the business
• Determining how the business will be managed and controlled during the divorce
• Management and control of the business following the divorce
• Potential hidden or diverted assets, revenue or income
• Resolution of ownership interests in the business following the dissolution of the marriage
• Protection of business reputation and goodwill
A dissolution of marriage involving the valuation and resolution of interest in a family business requires more than just an attorney with a thorough knowledge of New Mexico family law. A divorce involving a family business requires an attorney with a thorough understanding of complex business transactions as well as accounting and valuation principles.
Our experience handling divorces involving a wide array of entities and industries means that we can help you resolve the property division issues for your closely held family business. We also understand the importance of preventing disruption of the business, which can lead to short-term financial losses and permanent damage to the value of the business. If you are the spouse that had primary responsibility for the day-to-day management of the business, we will work for a resolution that permits the business to continue its smooth and seamless operation.
For the spouse that exercised minimal management or involvement in the finances of the business, we conduct the appropriate amount of aggressive discovery of financial documents including profit and loss statements, tax returns, receipts, accounts receivable/payable, inventory control documents and other financial documents so that we can ensure that the assets and cash flow of the business are fully disclosed. If your spouse refuses to cooperate, we routinely use experts like forensic accountants to ensure that the business is properly valued and any distribution of interest in the family business is fair and equitable.
The above information is designed solely to illustrate general principles of law, and does not constitute a specific legal opinion on individual cases. We suggest that you contact experienced legal counsel for a specific opinion tailored to your individual circumstances.
A divorce involving a closely held business is not that type of divorce. If you have questions about the valuation and division of interests in a business during a divorce, our Family Lawyers at Jay Goodman & Associates offer a free consultation in our centrally located offices in Santa Fe and Albuquerque during which we discuss your situation and answer your questions. Call us today to schedule your free consultation at (505) 989-8117 to learn about your rights and options.
A Wife's Failure to Disclose Twitter Investment During Divorce Click Here https://jaygoodman.com/?p=1482