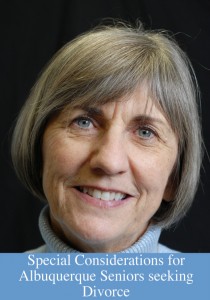 When contemplating the potential breakup of a marriage, it is probably not an elderly couple that comes immediately to mind. However, the special issues that confront senior citizens along with the rising average age of the American population has made this issue, which is frequently referred to as "gray divorce," a much more widely discussed scenario. The reality is that the financial and insurance consequences on elderly divorcing couples can be particularly challenging, so it is important for seniors to seek legal advice from experienced Divorce Attorneys in Albuquerque. We have provided an overview of issues that have particular significance for elderly couples seeking marriage.
Shorter Window for Financial Recovery:
When marital partners in their prime working years divorce, they have time to plan for long-term economic recovery. Both spouses may be employed so that they can more easily recover from the division of assets, such as retirement account benefits and savings. Even if only one of the marital partners is working, the higher wage earner will typically be ordered to pay alimony so both parties have time to engage in long-term retirement planning. When parties are already retired and drawing from their retirement accounts and savings, the division of these benefits without employment income can create serious financial hardships.
Impact on Insurance Coverage:
The importance of regular medical exams and frequency of health problems increase as people age. Notwithstanding the changes that might be ushered in by Obamacare, the loss of health insurance because of a divorce can interfere with one's access to existing doctors. Historically, the potential loss of access to the insurance coverage of a spouse through a marital partner's employer was a major issue, but Obamacare's prohibition on denial of coverage for pre-existing conditions has mitigated this concern.
Challenges in Acquiring a Home:
If the parties are retired, the lack of employment income and division of existing assets may impair the ability of the parties to individually qualify for a home loan. While the existing family home might be sold and the proceeds divided, this may not be a prudent option if the home does not have much equity.
The above information is designed solely to illustrate general principles of law, and does not constitute a specific legal opinion on individual cases. We suggest that you contact experienced legal counsel for a specific opinion tailored to your individual circumstances.
If you are a senior with questions about divorce, Jay Goodman & Associates offers a free consultation in our centrally located offices in Santa Fe and Albuquerque during which we discuss your situation and answer your questions. Call us today to schedule your free consultation at (505) 989-8117 to learn about your rights and options.