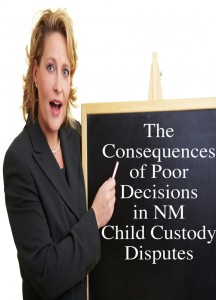 When our child custody Lawyers represent clients, we are committed to representing our clients' interests while also attempting to diffuse unnecessary animosity and conflict that can make child custody disputes more stressful for both the parents and children. Although this blog often discusses the benefits of amicable custody cases and the adverse consequences of certain types of conduct in custody disputes, sometimes there is a tendency to assume that extremely high conflict custody disputes are theoretical rather than real world experiences. This is why we occasionally provide an actual account of a child custody dispute that provides a primer in what to avoid as a cautionary tale.
This custody dispute was complicated from the beginning because it involved a same-sex couple who used artificial insemination to conceive a child after entering into a civil union. Lisa Miller had her egg artificially inseminated and gave birth to a baby girl. However, the same-sex couple divorced and afterward Miller became a born again Christian. Miller sought to terminate contact by her former same-sex partner because her views toward lesbian relationships had changed, so she considered exposing her child to her former partner's lesbian lifestyle a negative influence. When the judge declined to terminate parenting time by Miller's ex, Miller unilaterally suspended any contact with the child, had with her ex.
When the parties returned to court, the judge ruled that Miller's conduct amounted to willful interference with her ex's visitation rights. The judge changed custody and awarded sole custody to Miller's ex. Before the order became effective, Miller removed the child from the U.S. based on her belief that "God's law" was a higher authority than the judge's ruling. Despite the fact that Miller has been indicted on kidnapping charges, the child has not been located.
This type of custody dispute touches on many of the most challenging issues facing parents in custody disputes, including same-sex custody rights, refusal to comply with visitation orders, unilateral relocation of a child, and international custody issues. This type of bitter custody case is extremely hard on both the parties and the child. When parties disregard court orders regarding custody and visitation, it can result in exposure to criminal penalties and changes in custody. All parents benefit from avoiding this type of acrimonious custody case. Our experienced child custody attorneys work with our clients to help them navigate through the negative emotions they may have toward the other parent to avoid potentially devastating consequences of a regrettable decision.
Answers for Parents Facing a New Mexico Child Support Obligation
The above information is designed solely to illustrate general principles of law, and does not constitute a specific legal opinion on individual cases. We suggest that you contact experienced legal counsel for a specific opinion tailored to your individual circumstances.
If you have questions about child custody and visitation in New Mexico, our experienced family law attorneys may be able to help. Jay Goodman & Associates offers a free consultation in our centrally located offices in Santa Fe and Albuquerque so that we can discuss your situation and answer your questions. Call us today to schedule your free consultation at (505) 989-8117 to learn about your rights and options.