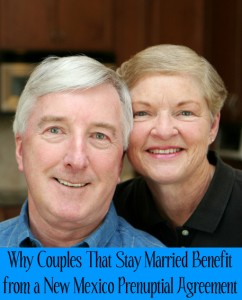 There are many parties that contemplate marriage but view a prenuptial agreement as a pessimistic step that undermines the unqualified commitment represented by marriage. While the principal function of a prenuptial agreement is to create predictability and minimize conflicts and litigation in the event of a marital dissolution, these premarital agreements also offer benefits for couples that remain married. Because a New Mexico prenuptial agreement can be helpful for all married couples, including those that never divorce, our experienced New Mexico Matrimonial Lawyers have provided an overview of benefits of a prenuptial agreement for couples that remain married.
Prenuptial Agreements Promote Open Candid Financial Communication: A prenuptial agreement is not enforceable unless both spouses make full and candid disclosure regarding the property owned by each party as well as any financial liabilities. This may promote more extensive sharing of financial information between prospective marriage partners than would occur when couples do not execute a prenuptial agreement. Sometimes discussions of delicate financial matters is difficult, but parties cannot rely on a prenuptial contract unless they honestly engage in detailed discussions of financial information prior to executing the agreement.
Prenuptial Agreements Provide an Effective Estate Planning Tool: While a prenuptial agreement can be a valuable estate planning tool in all states, a prenuptial agreement is an even more important component of one's estate plan in community property states like New Mexico. Community property law generally provides that all property acquired during marriage by either spouse be divided 50-50 between the spouses with exceptions for gifts, inheritance, and property acquired from separate property funds. If parties want to leave such property to children from prior relationships or others, this can be accomplished by executing a prenuptial agreement prior to marriage.
Clarifying Consequences of Divorce: Prenuptial agreements put both sides on notice of exactly what to expect in terms of the financial consequences of divorce. Sometimes an awareness of the impact on one's net worth or monthly income based on the property, debt and alimony provisions in the prenuptial agreement may motivate a party to consider counseling or other options to remain together rather than divorce.
The estate planning benefits of a prenuptial agreement can be maximized if couples review their prenuptial agreement when they conduct periodic reviews of their other estate planning documents. While parties may include provisions to override community property law in their prenuptial agreement, the circumstances that motivate that decision may change during the duration of a marriage. Parties may want to include provisions to leave certain assets to minor children from a prior relationship when entering marriage through use of a prenuptial agreement. After the parties have been married for many years and the children are financially independent adults, it may be appropriate to update the agreement to shift these assets back to one's spouse.
The above information is designed solely to illustrate general principles of law, and does not constitute a specific legal opinion on individual cases. We suggest that you contact experienced legal counsel for a specific opinion tailored to your individual circumstances.
If you have questions about a prenuptial agreement, our experienced New Mexico Prenuptial Agreement Lawyers invite you to meet with us. Jay Goodman & Associates offers a free consultation in our centrally located offices in Santa Fe and Albuquerque so that we can discuss your situation and answer your questions. Call us today to schedule your free consultation at (505) 989-8117 to learn about your rights and options.