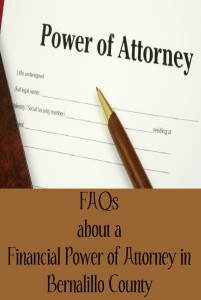 A financial power of attorney is a legal document that offers flexibility in terms of incapacity planning but also can have significant limitations. While people do not anticipate suffering physical or mental incapacity in a motor vehicle accident or from a life-threatening disease like cancer, failure to take appropriate precautions to prepare for incapacity can create enormous hardships for you and your family. By the same token, a financial power of attorney may be insufficient for an individual's needs unless it is supplemented by other documents. Our experienced Bernalillo County Estate Planning Lawyers have provided answers to frequently asked questions (FAQs) about this important estate planning tool.
What is a financial power of attorney?
This legal document appoints someone to act as your agent in managing your financial affairs. A power of attorney for financial matters can be plenary in scope so that it essentially permits someone to step into your shoes, or it can be limited to a single act like signing a contract to consummate a transaction. The function of the document is to indicate who may execute financial decisions or manage your financial affairs within the confines of the limits you establish.
Is a power of attorney only necessary if I am elderly or seriously ill?
While a durable power of attorney is designed in anticipation of incapacity, this can happen in a sudden unexpected accident to someone who is young and healthy. Additionally, a financial power of attorney may be designed for purposes other than physical or mental incapacity. There may be situations where you are unavailable to complete a transaction, such as a real estate purchase, so you may need to appoint someone to sign as your agent.
Can my bank refuse to recognize the person I appoint as my agent under a power of authority?
While a power of attorney can be an effective tool, there is no assurance that a financial institution or other entity will necessarily recognize the authority of a financial power of attorney. Some banks and other commercial institutions may refuse to recognize a power of attorney unless it is executed on the form provided by the institution. If you seek legal advice from an experienced Bernalillo County Estate Planning Attorney, the lawyer can use skillful drafting to construct a power of attorney that is more likely to be honored by the appropriate institution. The estate planning lawyer also may recommend use of a living trust with a trustee appointed to handle such issues which can be more reliable than a power of attorney.
The above information is designed solely to illustrate general principles of law, and does not constitute a specific legal opinion on individual cases. We suggest that you contact experienced legal counsel for a specific opinion tailored to your individual circumstances.
If you have questions about a power of attorney or living trust, we may be able to help. The New Mexico Estate Planning Lawyers at Jay Goodman & Associates, PC offer a free consultation in our centrally located offices in Santa Fe and Albuquerque so that we can discuss your specific situation. Call us today to schedule your free consultation at (505) 989-8117 to learn about your rights and options.