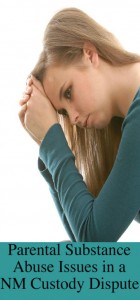 While a New Mexico family law judge must consider a long list of factors when constructing a parenting plan and determining the appropriate custody arrangement, there are certain factors that tend to be given more weight by family law judges. While we have previously addressed the importance of evidence of domestic violence by one parent against the other, another factor that carries great weight is substance abuse by either parent. Whether the judge is deciding on an initial parenting plan or modifying an existing custody order, alcohol abuse or drug use can have a significant impact on custody disputes in a divorce or paternity action.
Generally, this issue arises because one of the parents who is requesting sole custody, severely limited access by the other parent and/or monitored visitation will allege that the other parent's substance abuse endangers the welfare of the child. If such an allegation is made, the judge will typically request that the party who is alleged to have a substance abuse issue submit to a drug test. While the court can order a urine test, the court will usually request a hair follicle test because it will reveal any substances that have been ingested over a period of months. The party that is requesting the other parent submit to a drug test may be asked to advance the cost of the test, but this is not necessarily the case.
If the drug test is positive, the family law judge may make the other parent the primary residential parent and order limited or supervised visitation to the parent with the positive test. Depending on the severity of the problem, the court may even suspend visitation, but a supervised order is more typical. A parent who knows that the other parent is likely to raise the issue of substance abuse may wish to immediately enroll in a drug or alcohol treatment program. The judge will consider evidence of participation in such a program and successful rehabilitation. It is advisable to seek legal advice about initiating substance abuse treatment early because it can be difficult to modify a judgment that awards sole legal custody over important decisions like school and medical treatment to the other parent or declares the other parent to be the custodial parent.
Any parent with a history of substance abuse in the form of drug addiction or alcoholism should seek legal advice promptly to determine the best way to take the "sting" out of such a disclosure to the court. When you are involved in a contested custody case, these types of facts generally do come out, so not informing your New Mexico Child Custody Attorney so that a plan can be devised to deal with the issue can have serious adverse consequences.
The above information is designed solely to illustrate general principles of law, and does not constitute a specific legal opinion on individual cases. We suggest that you contact experienced legal counsel for a specific opinion tailored to your individual circumstances.
If you have had struggles with substance abuse and find that you are facing a child custody dispute, we invite you to talk to our Albuquerque Child Custody Attorneys. Jay Goodman & Associates offers a free consultation in our centrally located offices in Santa Fe and Albuquerque so that we can discuss your situation and answer your questions. Call us today to schedule your free consultation at (505) 989-8117 to learn about your rights and options.