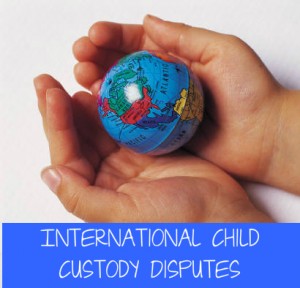 As our world continues to shrink because of more sophisticated communication technology and increasingly efficient means of traveling and migrating between countries, new child custody issues have emerged that might not have drawn much attention in prior decades.  While the debate over immigration reform continues to be waged in Washington D.C., the fact is undeniable that there are many people that live in the U.S. from other countries, such as Mexico, Central America, Middle East, China, Japan, Eastern Europe and other places around the world.
Because almost half of all marriages end in divorce, it is reasonable to presume that a fair number of people involved in divorce are from a different country of origin and may have a desire to return to that country once they have obtained a judgment of marital dissolution.  When married parents divorce, one parent cannot unilaterally leave the country with the children so we have provided an overview of the laws relevant to such international custody disputes.
The legal framework that governs these types of international child custody disputes is referred to as the Hague Convention on the Civil Aspects of International Child Abduction (Hague Convention).  The Hague Convention is a treaty in which the member countries have agreed to enforce the prompt return of children who are unilaterally taken by one parent from their country of "habitual residence" or that are not brought back after traveling on a vacation or other approved trip.
Although the Hague Convention applies to a large number of countries (approximately 90+), there are many countries that are not signatories to this treaty.  If the other parent flees with your child to a foreign country, an international custody attorney at Jay Goodman & Associates has the knowledge and expertise to guide you through the process of working with the state department to have your child returned to the U.S. pursuant to the terms of the Hague Convention.
Despite the availability of the Hague Convention as a tool to have children returned to their country of habitual residence in a timely manner, the most effective strategy for parents during divorce is to minimize the risk that the other parent will remove the child to another country.  This can be accomplished by having the child's passport flagged or forcing the other parent to surrender the passport of the child.  If you believe that a parent has immediate plans to leave the country with your child to evade the custody orders or jurisdiction of a court, you should seek immediate legal advice about the possibility of filing for an emergency hearing.
The above information is provided to illustrate general principles of law and should not be interpreted as a specific legal opinion on an individual case. You should contact experienced legal counsel to get specific legal advice that is based upon your specific circumstances.
If you have questions about international child custody disputes or the relocation of a minor child during divorce, the Jay Goodman & Associates offers a free consultation in our centrally located offices in Santa Fe and Albuquerque so that we can discuss your alternatives.  Call us today to schedule your free consultation at (505) 505-989-8117 to learn about your rights and options.